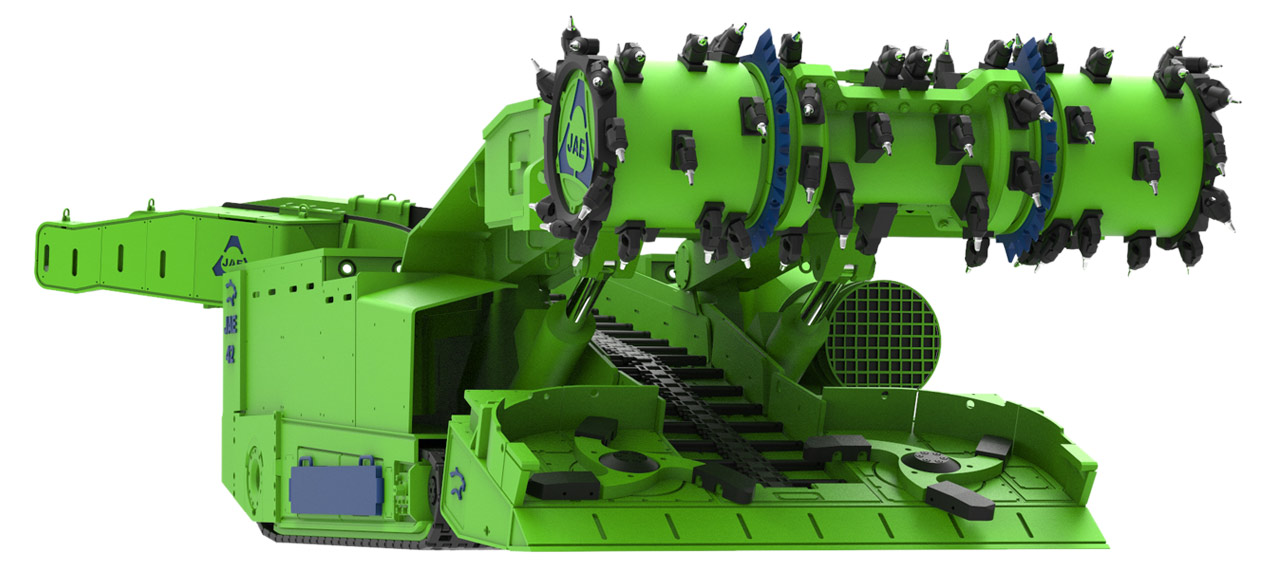 WILDCAT JAE42 CONTINUOUS MINER
Local Engineering Design
JA Engineering is proud to be a mining supplier which designs and manufactures world class mining technology products.
Design criteria for the new Wildcat CM:
Ergonomic considerations
Safety and best operating practices considered at the start to identify and mitigate safety risks.
Some existing continuous miner limitations have been reduced.
Increased reliability / life of components.
Cutter drive designed for improved control and to reduce stalling tendency.
Some basic machine mining specifications can be altered by the changing of some components.
Advanced technologies have been used in the design and manufacture.
Newer advanced technologies relating to personnel proximity location are also being implemented.
A lower risk approach has been used aiming for Zero Harm.
Specification of Machine
The Wildcat JAE42 CM is a remote controlled mid-high seam double pass continuous miner. The machine is capable of transforming a high installed cutting power through the machine weight into real production and cutting performance. The Wildcat JAE42 CM is designed to be used in a room and pillar coal mining operation, where a high cutting force is required.
| | | |
| --- | --- | --- |
| Total miner length | 12,1 | (m) |
| Total miner mass | 110 | (t) |
| Minimum tramming height | 1,9 | (m) |
| Width across main frame | 3,32 | (m) |
| Ground clearance | 280 | (mm) |
| Cutting width | 3,65 | (m) |
| Cutter drum diameter | 1320 | (mm) |
| Minimum cutting height | 2,2 | (m) |
| Maximum cutting height | 3,95 (short barrel cylinder) | (m) |
| Maximum cutting height | 4,7 (long barrel cylinder) | (m) |
| Cuttable rock strength (UCS. Lacing to suit) | 70 | MPa |
| Cutter motor power | 2 x 200 (continuous S1 rating) | (kW) |
| Loading capacity | 50 | (t/min) |
| Spade loading width | 3,36 | (m) |
| Conveyor width | 960 | (mm) |
| Conveyor capacity | 50 | (t/min) |
| Hydraulic Oil Capacity | 1500 | (l) |
| Tram speed-variable | 0 -20 | (m/min) |
| Ground pressure | 0,220 | MPa |
| Total installed power | 828 (1000 V / 50Hz) | (kW) |
Features and Benefits
200kW S1 cutter motor delivering 300kW cutting power
Variable Voltage Variable Frequency (VVVFD) AC traction system (2 x 85kW)
Pempek – AC traction control system
Fully integrated collision avoidance system ("PDS")
Traction brake to hold miner at face during cutting
Wider tracks for lower ground bearing pressure
Track pad design to improve slewing
Higher power traction motor and cutter motor design
Improved cutter drive torque protection
Cutter head feedback control in sump and shear mode
High inertia cutter drums for reduced stalling
Cutter drum lacing custom designed to suit mine conditions